OUR EXPERTISE – INNOVATIVE TECHNOLOGIES
We make innovative technologies available to you so that you can introduce an insurance offer into your customer process, smoothly and agilely.
We interface insurance offer distribution processes with your sales processes and products.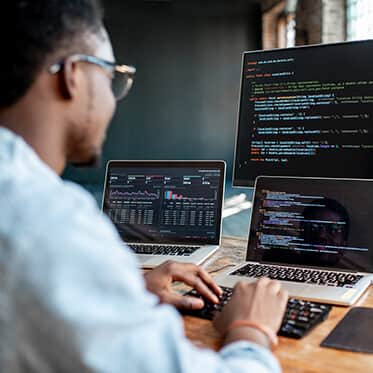 Integrate our functionalities into your information system
From managing policies to claims management, all our solutions are available in the form of API (Application Programming Interface), which facilitate the exchange of data and enable smooth integration with your information system. Our API library makes it possible to introduce subscription, payment and claims reporting functionalities into any insurance service that you want to embed with your customer processes, while still respecting your visual identity or one that you may choose.
Our solutions are designed to be integrated into any digital system, making it possible to embed insurance for products sold on e-commerce websites, for any goods leased or sold on a platform or in connected objects. Our IT work with agile methods (Scrum & Kanban) and make it possible to adjust our solutions exactly to your needs and to roll out our programmes within short lead times.
Roll out our solutions, depending on your needs
Improve performances thanks to data
Data is at the heart of our model. The data collected in real-time enables us to track the technical results of insurance products, as well as control the risk and sustainability of policies while optimising your profitability. Through our data visualisation tool, we make dashboards available to you offering a detailed analysis of the performance of each of the insurance offers, enabling us to guide you with appropriate advice.